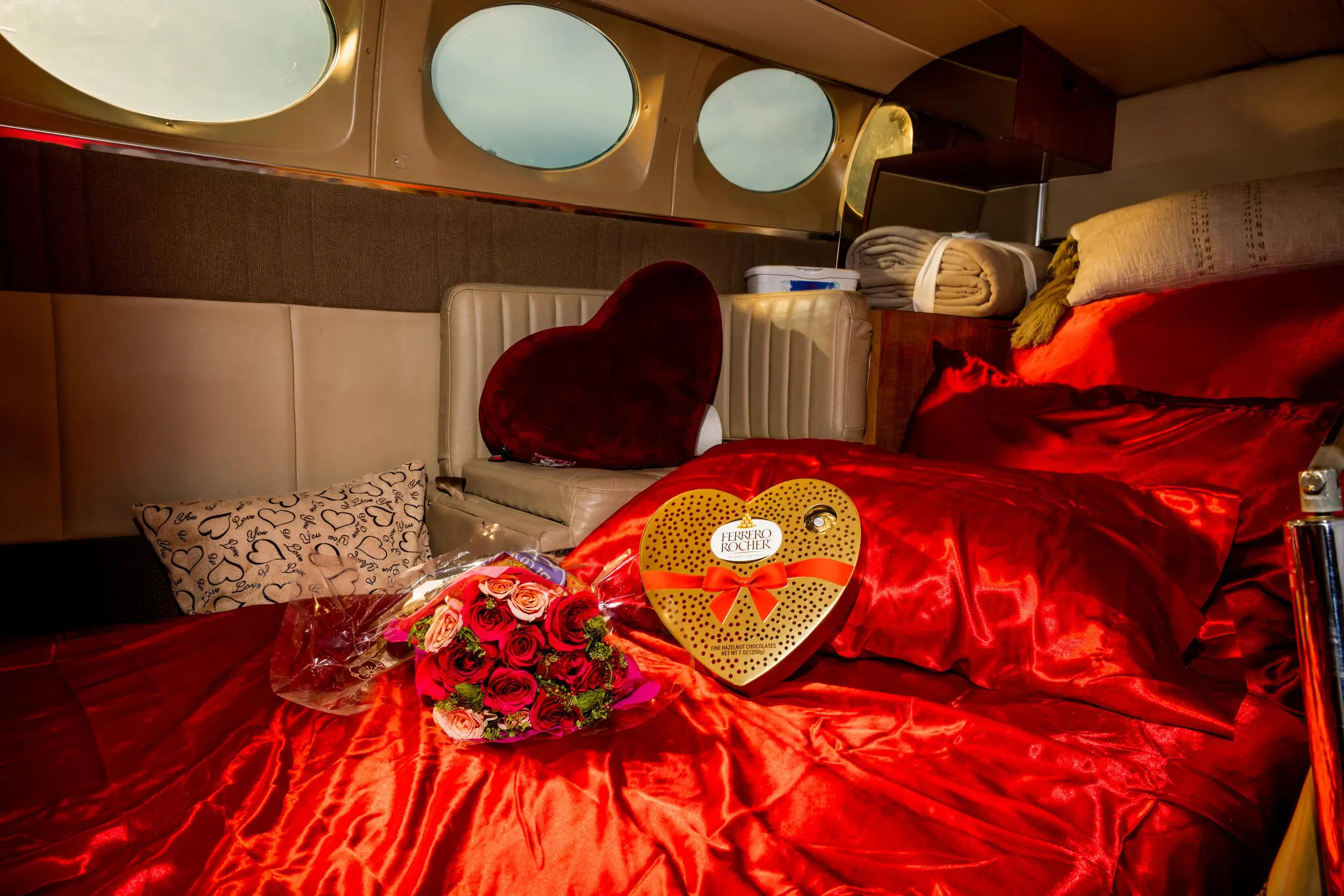 The Mile High Club, who'd thought it's a great business.
Looking for a unique sexual experience? For $995, Love Cloud will fly you and a partner in a private airplane for 45 minutes so that you can join the mile high club. Granted, you don't have to have sex on the plane. You could pay $1,195 to get married on board. For $100 more, it can be booked for a romantic one-course meal; for $1,595, you'll get three courses. With any package, an extra $300 will get you a bottle of bubbly and ride to the tarmac in a limousine. So whether you're looking for a fun new way to spice up your sex life or want to make your wedding day extra special, Love Cloud has you covered.
The company has its two Cessna 414 planes "magic carpets" and gleefully recounting the kinks and quirks of some of its more memorable clients, including a couple that showed up dressed as a pilot and flight attendant. Love Cloud mostly books couples, but has accommodated groups of three or four, with an additional fee of $200 per person.
Those who buy the Mile High Club Flight will find a plane decked out with a twin mattress on the floor and several pillows, all ensconced in red satin. A curtain separates the passengers from the pilot, who wears noise-canceling headphones and remains in the cockpit for the duration of the flight. Yes, the plane and its bedding are cleaned after each flight. The mile high experience isn't just about sex, though that is certainly part of it. It's about feeling like you're doing something naughty, something that you shouldn't be doing. It's about pushing the boundaries and embracing your wild side. So if you're looking for an unforgettable experience, one that you'll be talking about for years to come, book a flight on Love Cloud. You won't be disappointed.
Imagine being treated to a luxurious, private dinner while flying high above the clouds. For one couple, this was reality thanks to a mile-high flight package purchased through a Las Vegas-based company. The man, who wished to remain anonymous, said that he booked the flight in an effort to save his relationship. "I was in trouble with my partner, so I had to make sure it was more for her than me," he said in a phone interview. "That's why I got the romantic package rather than the mile high." Once on board, the two were served a three-course meal from Mezzo Bistro, a restaurant in Las Vegas which provides the food on all dinner flights. His plan was a success. "When we finally got into the airplane, she was smiling ear to ear," he added that, if they book another flight, he plans to do things a bit differently. "Next time it's mile-high," he said. Whether you're looking for a unique date night or a special way to propose, a mile-high flight might be just what you need.
Romance is still in the air 😊